Financial Planning
Financial Planning is the long-term process of managing your own finance so that you can achieve your goals and realise your dreams. It also helps you to know; where you are today? Where you want to go? and how to reach the destination?
Benefits of Financial Planning
If you have the time and knowledge, you may be able to do a lot on your own. But most of us are too busy to do proper financial planning on our own. Sometime a specific event or need will trigger the desire for professional financial planning guidance; it may be for buying a house, funding education or marriage of children or planning for retirement. Some aspects of financial planning may be too complex for most people such as calculating how long your retirement savings will last. Further, the recommendations made by the neighborhood advisor or insurance agent may not match your needs. There are advantages in seeking guidance from a professional and best financial planner, who not only helps you to prepare a proper financial plan but also keep you on track to achieve your goals too.
Different asset classes perform differently over a period. Due to volatile markets, it has become risky to put all the eggs in one basket. Diversification in various asset classes and periodical & regular investments are key to manage volatile market conditions. Further, the risk appetite of individual investors varies with attitude to risk and capacity to take the risk. Financial planners evaluate the whether there is a need to take the risk. Investment planning includes risk profiling, deciding on the time horizon of investment, asset allocation, and periodical review and rebalancing so that the goals are achieved. It ensures optimization of safety, liquidity, return, taxability and risk appetite of the investor.
It is the one of the most important goals of each and every parent. Parents dream of their children of having a good career and wish them to settle well. The educational expenses are rising every year more so the higher education abroad. Therefore there is a need for proper planning for children's future. It is necessary to start planning early and investing regularly in building the required corpus.
In India, around 4% of the workforce are covered by defined retirement benefit schemes. The longevity of both male and female are rising every decade. The breakdown of the joint family system, need for better health care at old age and rising cost of living have thrown serious challenges to retirement planning. It has become extremely important to plan for accumulating retirement corpus and a sustainable withdrawal rate in distribution phase post retirement. We recommend for the three-bucket strategy for managing distribution phase of retirement.
Insurance is a form of risk management and provides financial support to the family in case of loss of income due to sudden demise/sickness/ incapacitation of the bread earner. The life assured should have adequate insurance cover and get the right products matching the needs. Insurance Planning covers Life Insurance, Health Insurance, and Personal Accident Insurance, Household articles Insurance, Travel Insurance and Motor vehicle insurance.
Govt. Provides tax incentives for various categories of savings, investments, expenses and borrowings. Tax planning ensures optimization of the tax saving strategy so that efficiency in tax planning is achieved. There is a misconception that tax planning is filing the income tax return. The purpose of tax planning is to ensure that savings and investments are made in income tax approved schemes, avail tax permitted expenses and borrowings to lessen the incidence of income tax. It also examines the possibility of minimizing the incidence of Capital Gain Tax.
Your estate is all the property that you own. It includes cash and bank balance, jewelry, cars, landed properties, house, investments in shares and MFs, etc. Estate planning includes nominations and will. Creating a will facilitates inheritance and helps in smooth transfer of the property to the legal heirs after one's demise. Proper estate planning helps in avoidance of disputes, save probate costs, provide peace of mind and ensures smooth inheritance to the next generation/trusts.
It is common to find that borrowings are made at high-interest cost while maintaining substantial savings in low-interest bearing instruments. Even many use multiple credit cards and roll over payables at very high cost. Debt management undertakes due diligence on all borrowings and savings & investments to ensure optimization of the benefits and lowering the costs by considering all relevant angles including taxation.
Financial Life Planning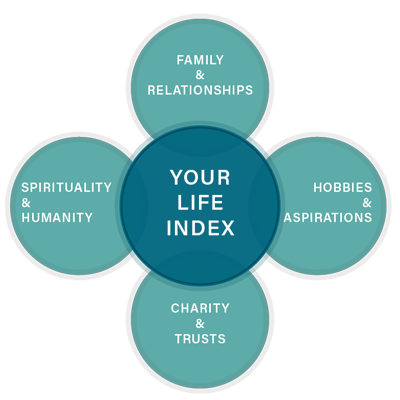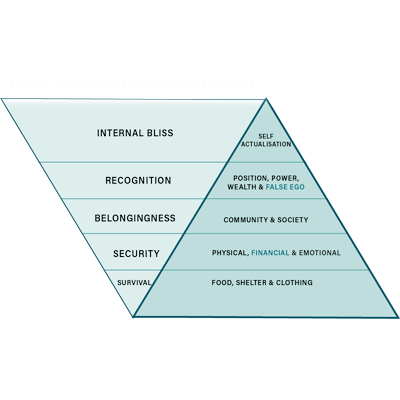 Happiness & Need Hierarchy